I did co-write Saving Raphael Santiago, yes. ;)
And it explains a lot about Raphael: about his family (an immigrant Mexican family in the 1950s, humans who are aware vampires exist, i.e. badasses), about his temperament, what he cares about and the lengths he will go to in order to achieve his ends.
I always like the very practical character in a world of people being dramatic. Magnus—though he is dramatic—and Raphael actually have that in common: that they are the ones arching their eyebrows and judging the others a bit. They're the immortals: they've seen a lot of this before. And they have a dryer wit than most. (Wit dries over time, like beef jerky.)
I also like the character who's not characterised as on the SIDE OF EVIL, but who isn't on the side of good either: who has different priorities than the main characters, whose loyalties are thus uncertain, whose motivations are different but understandable. I think that happens a lot in real life and should happen more in fiction, and that character's always so interesting because a) they show the world and the people in it are complicated and b) YOU JUST DON'T KNOW WHICH WAY THEY'LL JUMP.
In Anne Rice's Vampire Chronicles books, there is a fifteen-year-old-looking vampire from the Renaissance, Armand (inexplicably played by Antonio Banderas in the movie) and as an Anne Rice fan I was always interested by the idea of someone wise, someone old, stuck at that age—how it affected perception of them, how it affected how they behaved and thought of themselves, how they struggled with it or how they used it.
Like, Raphael when we first see him in City of Bones totally tricks the main characters, because they see a kid younger than themselves.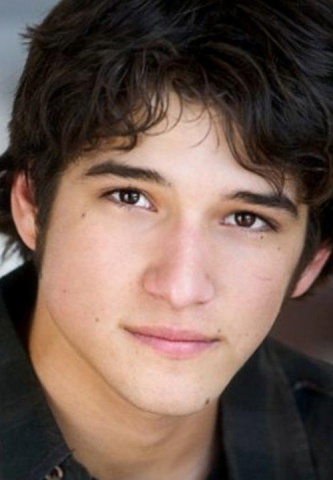 Would you not trust this little face? 
Raphael's also not that old (for a vampire… we see a lot of hundreds-year-old vampires, but not that many fifty/sixtysomething-vampires) and yet he's powerful, and that says a lot about Raphael, I think: who he was, even when just turned, when he was so young.
Basically, I think Raphael is very smart, very practical, very determined on his way and on cutting down those *in* his way. And thinking of the evolution of Raphael and his connection to Magnus was a lot of fun for me: it made me care a lot about Raphael. (Now I interrupt plotting sessions going 'Raphael would say this' and 'HE'S A HERO… SOMETIMES!')
There is actually a moment in City of Heavenly Fire which calls back to the story. We all just came up with it on Monday, in between the disturbingly sexy stuff. ;)